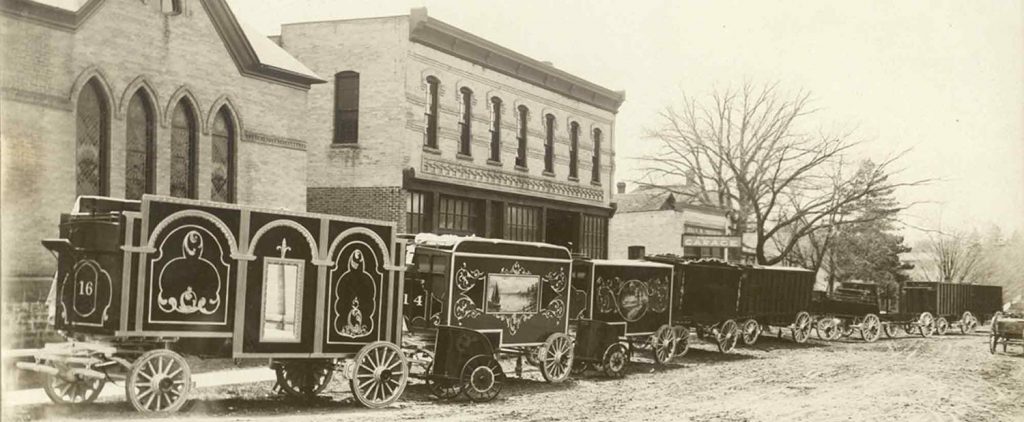 The community's long history is evident in the carefully maintained Victorian homes and the mile-thick layer of Baraboo Quartzite that hugs the city.
Baraboo Quartzite is a glossy, pink rock, dating back to 1.7 billion years ago. It emerges in Devil's Lake State Park, continues deep below the earth's surface and then surfaces once again a few miles north of Baraboo. The rock is a brilliant natural reminder of the city's long history.
Baraboo is named after a French trader and trapper who bartered with the Indians near the mouth of a stream which today bears his name. Initially, only the river was called Baraboo; the name later applied to the hills, the city, and the town.
From the beginning, early settlers were attracted to Baraboo's ideal location and abundant water supply. The lumber industry flourished upon the banks of the Baraboo River, and trading for the rich agricultural land surrounding the town soon followed, serving as a catalyst for Baraboo's growth. A charter election in 1866 created the Village of Baraboo; sixteen years later, on April 1, 1882, Baraboo became a city by legislative action of the State of Wisconsin. Today, the City of Baraboo is home to more than 12,000 people. Next door, the Village of West Baraboo is home to more than 1,000 more.