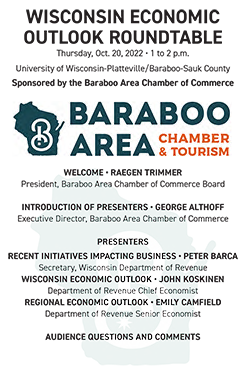 Althoff: Economic outlook roundtable is 10/20
George Althoff
Executive Director
Want to know what's in store for the Wisconsin economy in the coming months? Here's your chance to find out. On Thursday, Oct. 20, the Baraboo Area Chamber of Commerce will host a Wisconsin Economic Outlook Roundtable with Department of Revenue Secretary Peter Barca, Chief Economist John Koskinen, and Senior Economist Emily Camfield. The event will be held from 1 to 2 p.m. at the University of Wisconsin-Platteville/Baraboo-Sauk County.
We're inviting all Chamber members and key stakeholders to attend this free event (please register here). If you are not able to attend in person, you can attend virtually by accessing this Zoom link.
Secretary Barca will highlight recent state business initiatives, while Koskinen and Camfield will present the latest information on the Wisconsin Economic Outlook, including data on employment levels, personal income, wages and sales tax revenue. The meeting will conclude with a business and economic development roundtable discussion with key stakeholders.
Secretary Barca is a lifelong resident of Kenosha and Somers and has served Wisconsin at the state and federal levels. He represented the 64th Assembly District from 1985 until 1993, when he was elected to the U.S. House of Representatives. Following his time in Congress, Secretary Barca served for nearly five years as the Midwest Regional Administrator of the U.S. Small Business Administration. He was also appointed to lead the National Regulatory Fairness Program, an initiative aimed at making regulatory enforcement more small business-friendly.
He returned to the state Legislature in 2009 and served until January 2019. During this time, he spent seven years as the Assembly Minority Leader. He was appointed Department of Revenue secretary in January 2019.
The Chamber is pleased to sponsor this event as we work to fulfill our mission to help strengthen the local economy.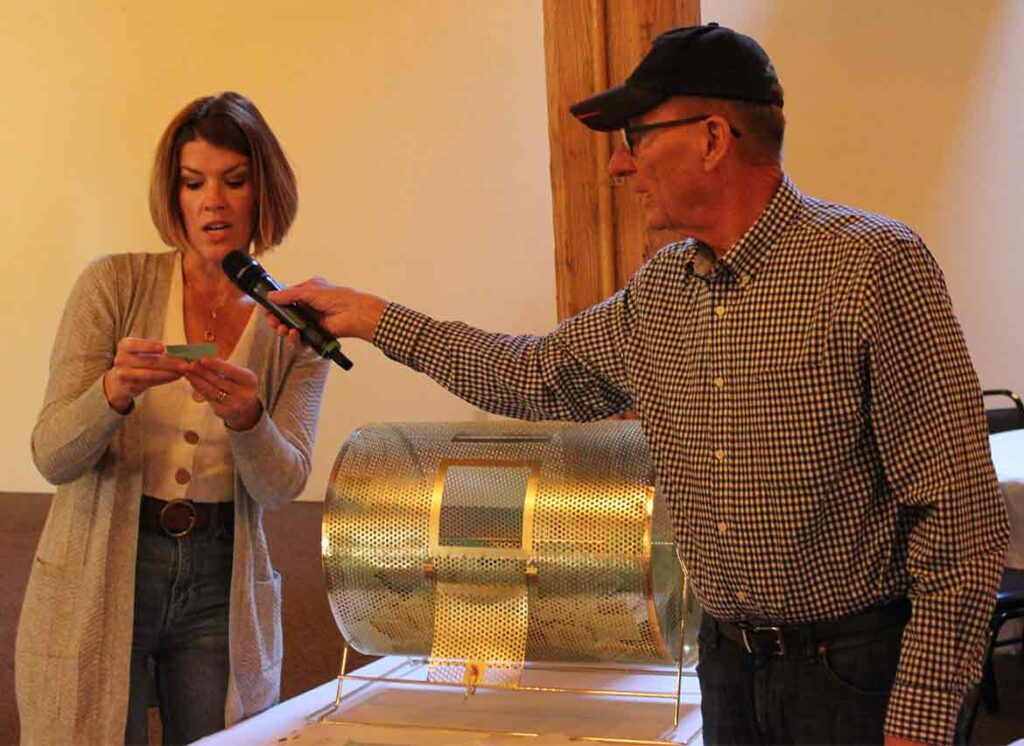 Want to win $1,500? Here's how
On Nov. 12, we'll be making several people a little richer when we draw the winning tickets at our annual cash raffle drawing party. Top prize is a cool $1,500. In addition, three $500 prize winners will be drawn, along with at last five dining cards to local eating establishments. The drawing will occur at the Al. Ringling Brewery during halftime of the Wisconsin-Iowa football game played that day. Tickets are $10 each or three for $20. Please join us Nov. 12 for the raffle drawing and related festivities at the Al. Ringling Brewery. If you would like to purchase tickets, stop in at the Chamber office, give us a call at 608-356-8333 or send an email to events@baraboochamber.com.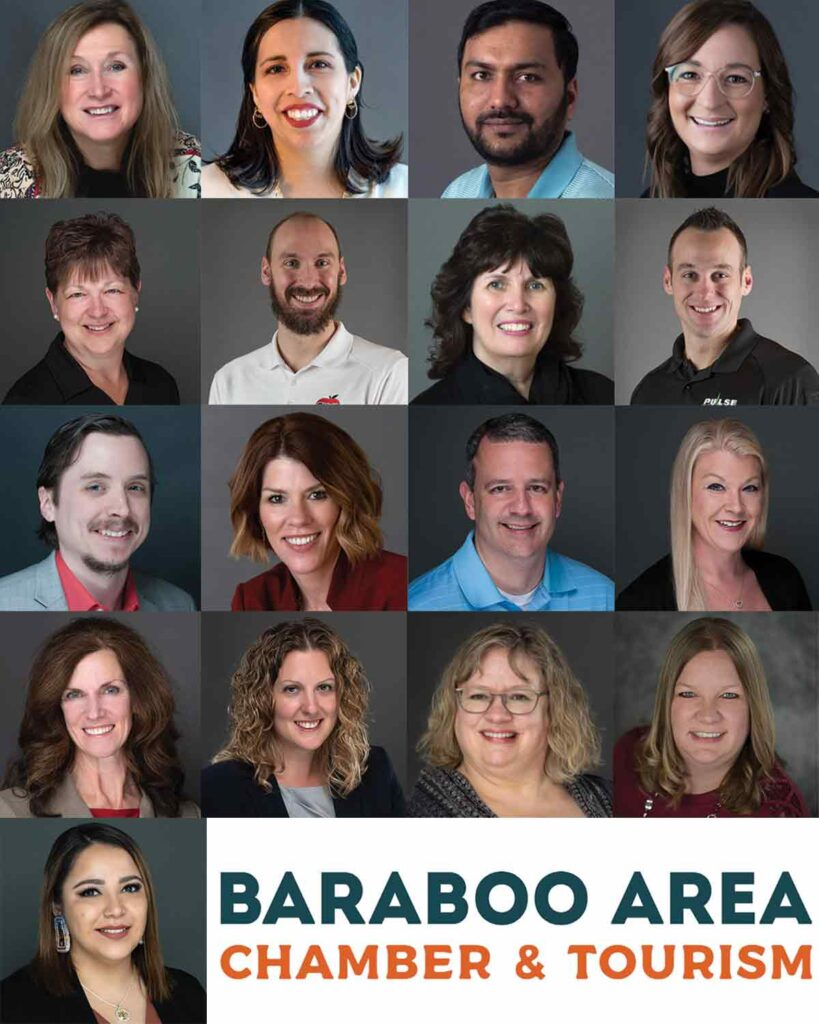 Last call for 2023 board nominees
If you're interested in serving on the chamber's Board of Directors, now is the time to raise your hand.
Three spots on the Chamber's 17-member board will be up for election for three-year terms beginning Jan. 1, 2023.
The seats are currently held by Secretary Mary Dressen (retail), Treasurer Tony Jaynes (at-large), and Tom Patel (West Baraboo hotelier representative). All three are eligible to be elected for a second term.
Per the Chamber's bylaws, President Raegen Trimmer will appoint a nominating committee in October. By the November board meeting, the nominating committee will submit a slate of nominees to the full board for approval. All eligible Chamber members then will be allowed to vote on the slate of nominees. If you would like to be considered for one of the seats on the board, please send me an email at director@baraboochamber.com or call me at 608-356-8333.