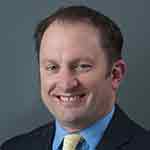 Bromley: Update from that other guy who isn't Darren
By Ben Bromley
Marketing & Tourism Coordinator
Everything has been different this month without our fearless (former) leader Darren Hornby. No one is walking around the Visitor Center wearing lederhosen or a "cash suit" or a crab costume. But activity has been plentiful. And we know help is on the way.
We hope everyone enjoyed the Trunks & Trucks event Sept. 27. This new, end-of-the-summer celebration provided one last glimpse at all 15 artistically enhanced elephants before they went to their forever homes. And it gave us yet another reason to visit Ski Hi Fruit Farm – as if we needed one – during its peak season.
I'm happy to report that most of the winning bidders in the elephant auction are local, so these pretty pachyderms will remain among us for years to come. Many will be on display for the public at locations such as Baraboo State Bank, Tin Roof Dairy and Circus World.
Many have asked whether we'll organize another art installation next year. Given the popularity of this summer's "parade of elephants," you can look for the Chamber to introduce a similar campaign 2022 in conjunction with the Big Top Parade, scheduled for June 25.
Darren has remained an integral part of the Chamber team, helping out on a part-time basis around his "day job," as Development Director for Boys & Girls Clubs of West Central Wisconsin; and his early morning job, baking pies at Ski Hi. (I suspect he has perfected self-cloning technology but selfishly is telling no one.) For example, he organized last week's trolley tour, which sent 15 Chamber Ambassadors and staff to several member businesses for visits.
Some tasks have fallen to me, such as running the September meeting of the Ambassadors Club. After conducting our monthly business at Las Milpas, we welcomed the finalists for the Chamber's Executive Director position. This informal "meet and greet" allowed the Ambassadors to learn about the finalists, and vice versa. All three finalists went through interviews last week at the Visitor Center, and our Board President Shawna Marquardt asked that I tease you all by saying there will be news soon! (I know, I know, no one likes a tease.)
Rest assured, our Board of Directors continues to provide capable leadership, as does Darren in a part-time role. Meanwhile, Michelle and Kristi Feld and I are keeping the office running.
October will be a busy month. Look for us at Baraboo Riverfest and Fair on the Square and at Ski Hi, where we'll be selling tickets to the Chamber's Annual Raffle. Let me know if you need any.