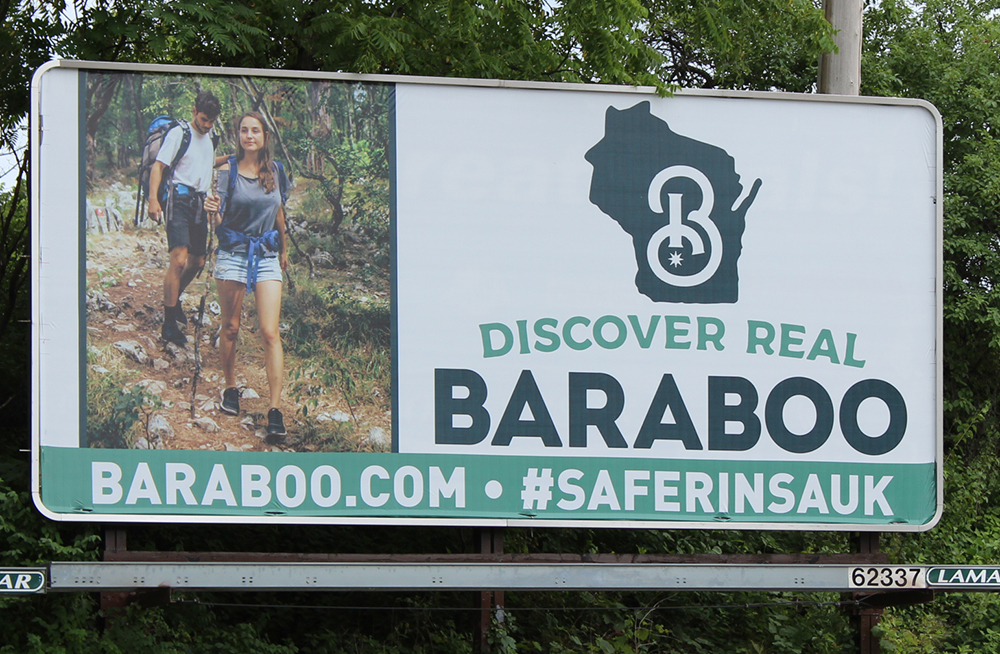 DARREN HORNBY: Our brand is popping up all over
By Darren Hornby, Executive Director
Baraboo Area Chamber of Commerce
All around our community, you're seeing signs of the Baraboo Area Branding Committee at work.
The City of Baraboo has installed wayfinding street signs that use the Discover Real Baraboo brand's typeface and color scheme to help visitors find points of interest. The Village of West Baraboo will be doing the same.
Also last month, the committee placed billboard advertisements in nearby communities. In addition to the familiar "Baraboo B," the billboard ads feature the #SaferInSauk hashtag and depict images of visitors taking part in safe activities. Our goal is to encourage tourists from other south central Wisconsin communities to visit the Baraboo Area, and to do so safely.
These campaigns are being funded by the Chamber and its branding partners – the village, the city's Business Improvement District, and the Downtown Baraboo Inc. group. Even though the travel industry, like so many business sectors, is facing challenges posed by the pandemic, we are carrying out our commitment to promote the Baraboo Area as an authentic, safe place to visit and do business. Fortunately, our community is full of destinations for outdoor recreation, making us ideally suited to attract visitors in this climate.
Like you, we're trying to persevere under adverse circumstances. COVID-19 has affected the Chamber, just as it has affected so many of our members. We've had to scale back plans for our first Oktoberfest because large gatherings aren't safe. Finding sponsor support for that and other events has been difficult because so many of our members are hurting financially. Due to budget constraints we had to lay off our beloved longtime office manager coordinator, Sandy Gavin. Sandy was a wonderful part of our Chamber family and we wish her the best in her new endeavors.
Despite such obstacles, we're forging ahead. We're partnering with Downtown Baraboo Inc. on a new event – two events in one, actually. Maxwell Street Days will be held downtown on Friday August 14 and Saturday August 15, featuring sidewalk sales arranged by participating merchants. On that Saturday, a Made in Baraboo Market will fill the courthouse lawn as live music fills the air.
We're also moving forward with our annual Golf Classic, set for August 18 at Baraboo Country Club, and have been excited to see the response: More than 100 players already have signed up. Some aspects of the outing will be tweaked to ensure safety, but I think many of us are looking forward to enjoying a little normalcy.
These are trying times, but we're ready to roll with the punches and find new ways to get locals and visitors alike to see there's much to enjoy in the Baraboo Area.