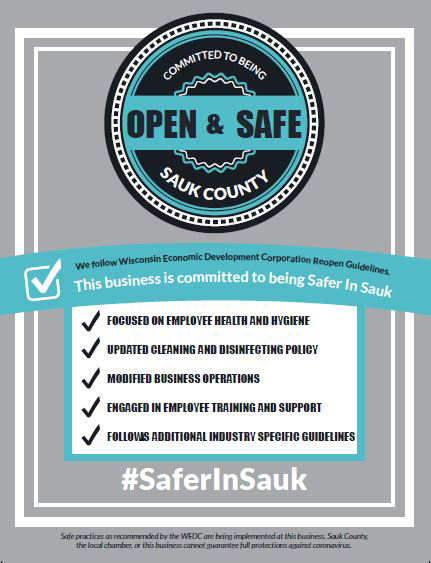 The Baraboo Area is safe for consumers
Sauk County leaders are looking for ways to highlight and support businesses that have implemented safe practices, as recommended by the Wisconsin Economic Development Corporation.
This commitment ensures that customers are safe through merchants' attention to employee health and hygiene, updated cleaning and disinfecting policies, modified business operations and increased employee training and support during this pandemic.
Many Baraboo Area businesses have reopened with new cleaning procedures, social distancing requirements and limited capacity. We want consumers to know the Baraboo Area is a safe place to visit, shop and do business.
The Chamber is providing #SaferInSauk posters to members that have implemented special health and safety protocols in their workplaces so that consumers with health concerns know where they can safely conduct business.
Watch for updates on a special page devoted to safety precautions being taken in the Baraboo Area.