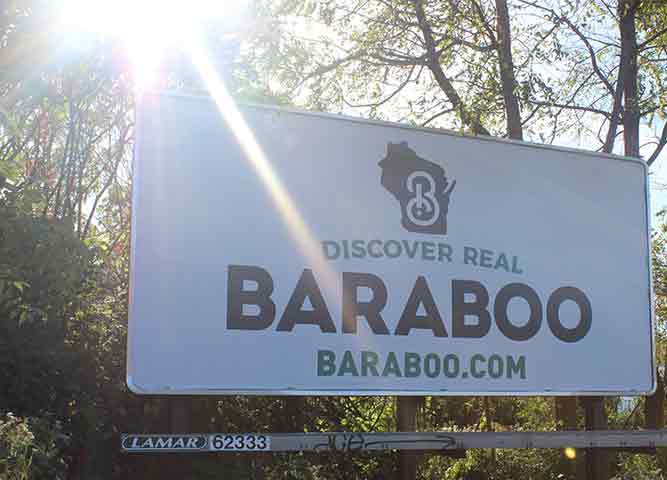 Partners using Discover Real Baraboo brand
Following up on this summer's rollout, the Chamber and its partners have been working to familiarize local residents with the Discover Real Baraboo brand.
Next we'll spread the brand to other communities to attract visitors to the Baraboo Area and encourage people to do business here.
We hope you've seen the "Discover Real Baraboo" brand on billboards, yard signs, print advertisements and social media over the past month. All bear the "Discover Real Baraboo" slogan and the "Baraboo B" logo. Many of these pieces refer to the Chamber's website – baraboo.com – where there's a page dedicated to explaining how the brand came about, and what it was designed to accomplish.
Five partners joined forces to develop the brand: The City of Baraboo, Village of West Baraboo, Downtown Baraboo Inc., the Business Improvement District and the Chamber. The goal was to develop a slogan, logo and color scheme all the partners could use to promote the Baraboo Area as a destination through cohesive, cooperative messaging.
Each individual entity has its own logo, of course, but if everyone incorporates the "Baraboo B" into their marketing materials as a secondary logo, it'll reinforce the message that the Baraboo Area is working as one to brand and promote itself.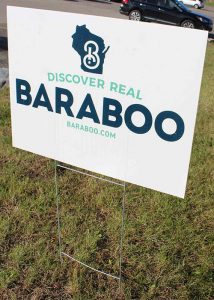 To that end, the Chamber and its partners invested significant resources this fall in paying for billboards, yard signs, print ads and social media blasts featuring the brand. We even handed out temporary tattoos bearing the "Baraboo B" at the fall Night Market! We want consumers far and wide to recognize that when they see that "B," they know it's coming from Baraboo.
After introducing the brand locally, the partners began targeting communities north and west of the Baraboo Area, using billboards, social media and radio ads. Rather than spend marketing dollars in metropolitan areas that already have myriad shopping options, the committee opted to target smaller nearby communities that don't enjoy Baraboo's breadth of national retailers, independent shops, restaurants and recreational opportunities.
As part of the branding effort, the partners' Brand Committee is developing plans for new roadway signs to be placed throughout the city and village. The baraboo.com website will be revamped to better serve visitors using smartphones.
Chamber partners such as Downtown Baraboo Inc., along with individual businesses, have begun using the brand in their marketing efforts. You can look forward to seeing a lot of that familiar "B" during the upcoming holiday shopping season, in the Baraboo Area and beyond!