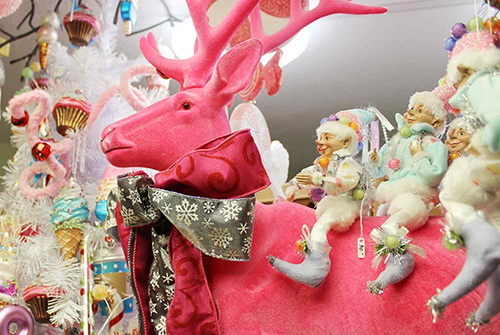 Find unique gifts, experiences in Baraboo
Want to make sure no one on your list receives the same gift from you that they got from someone else? Shop in the Baraboo Area, where merchants specialize in one-of-a-kind treasures.
Pop in at Blooms Unfold, a floral and gift shop in West Baraboo brimming with gift items you won't find anywhere else. Handmade garlands, glass ornaments and decorative reindeer in pastel colors can make great presents for friends and family, or can spruce up your own home for the holiday season. Sleek gloves and comfy socks complement the décor bursting from every cranny of this charming store.
Venture into Downtown Baraboo, where independently owned shops offering unique gifts ring the courthouse square. A Sense of Adventure on Oak Street sells hand-crafted, fair-trade goods from around the world. Just Imagine Toys on Fourth Avenue has carved out a niche in a competitive market by finding the latest – and quirkiest – games and toys to stock its shelves. Countryside Refind fills its expansive Third Avenue store with handmade, refurbished décor. Just down the street, Bekah Kate's Kitchen, Kids and Home delivers gourmet cookware, gifts and fudge!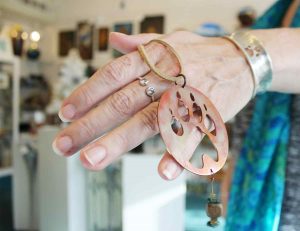 Among the anchors of Baraboo's Rockwellian downtown square is Cornerstone Gallery. Set in a 130-year-old building listed on the National Register of Historic Places, the gallery showcases the work of 40 artists. Local jewelers, potters, photographers and sculptors create gift items unlike any others. Hand-sewn ornaments, blown glass pieces and elephants crafted from scrap iron are just a few of the delights available. Owner Rachel Rosenblum designs custom "paw print" jewelry, allowing pet owners to commemorate four-legged loved ones. They're for sale just across the store from painted mushrooms, aluminum photography and other items people on your shopping list don't yet know they need.
In addition to unique goods, the Baraboo Area prides itself on offering an unforgettable Christmas shopping experience. Each Saturday, horse-drawn wagons and choirs of carolers circle the square as Santa Claus listens to children's holiday wishes. And every day of the week, Tin Roof Dairy on Third Avenue sends customers back in time with an old-fashioned soda fountain experience straight out of the 1940s.
Outside the city core, Baraboo Candy Company offers trademark treats at its factory store north of town and online. Send friends and family your best holiday wishes in the form of Cow Pies and Horse Apples!
Whimsical, you-won't-find-this-just-anywhere goods and experiences make the Baraboo Area a special place to visit. It's an ideal destination for shoppers looking for something just a little bit different!