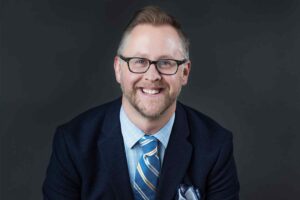 By Darren Hornby, Executive Director
Baraboo Area Chamber of Commerce
This month Wisconsin's economy is set to reopen, and the Baraboo Area Chamber of Commerce is honored to be leading the recovery effort alongside its members. We're planning several initiatives designed to get things humming again.
The Safer at Home order, while necessary to safeguard public health, stalled the economy. Stores, offices and nonprofits like the Chamber closed their doors. But that doesn't mean our staff has been inactive. We've spent the pandemic quarantine getting information out to members about state and federal aid programs designed to help them ride out this difficult period. We shared your new hours, services and specials at baraboo.com and on our social media feeds. We recruited members to deliver educational webinars as part of our "Restart, Rebuild" series. And we worked with Sauk County and neighboring Chambers to establish a Small Business Relief Fund that, thanks to our municipal partners and private donors, has put grants totaling tens of thousands of dollars into the hands of struggling merchants.
All the while, we've been setting strategies for a recovery effort to be launched as soon as the Safer at Home order is lifted. We feel travelers will be itching to get out and about as soon as it's safe, and that lingering concerns about international travel and even domestic air travel could make a regional destination like the Baraboo Area a real hot spot. Families that canceled spring break flights will be be looking for "road trip" destinations within a day's drive where they can spend a week this summer or fall. We plan to invite them to Discover Real Baraboo.
The Chamber already had an aggressive marketing plan in place for mid-summer. We were preparing to apply for a Joint Effort Marketing grant from the Wisconsin Department of Tourism before COVID-19 hit, and before the state retooled the grant program to address communities' needs in the wake of the coronavirus pandemic. Our marketing plan will remain in place, and we're still going after the grant, because now more than ever we need to make a push to bring visitors to the Baraboo Area in the second half of the year.
We plan to advertise in publications catering to travelers from major cities in neighboring states. We're developing a video series that, through the Chamber's YouTube channel and social media platforms, will entice prospective visitors to sample this community's many charms. We will be rolling out a revamped, visitor-friendly website equipped with a virtual tour guide.
These efforts originally were aimed at boosting tourism during the "shoulder season" that follows a bustling summer. This year, with the Baraboo Area's tourism season getting off to a delayed start, our plan will kick in at just the right time. We'll be promoting the community to visitors looking to travel in late summer, fall and during the holiday season. We're confident our marketing push will help all of you enjoy a strong finish to a challenging year.
I thank all of you who have supported the Chamber and your fellow members during this pandemic, and I credit you for keeping your chin up and pushing through the quarantine.
The worst is nearly over. Now it's time for the Baraboo Area to set its sights on rebuilding and restarting its robust, diversified economy.