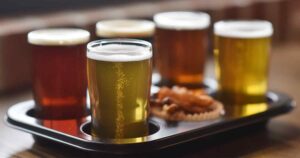 ABOUT TUMBLED ROCK BREWERY & KITCHEN
Opened in fall 2019.
15-barrel brewhouse, 11 beers on tap, with a half-dozen of those likely to be flagship beers based on customer popularity.
Udder's Up Cream Ale and Chuck Brown Dog English Brown Ale are the early selling leaders.
Walk from the restaurant across a courtyard to get to the brewery building for tours and tastings.
Out-of-the-box restaurant menu with appeal to foodies, both locals and those who veer off the beaten path on the way to somewhere else.
MEET ERICA DeANDA: Head brewster. Also a chapter leader of the "Pink Boots Society," which inspires and encourages women beer industry professionals to advance their careers through education.
What is your title at Tumbled Rock?
Head brewer, no make that head brewster. That's the English term for a female brewer.
How did you come to this career and to Baraboo?
I'm originally from California, so you could say "cost" sent me here, plus my partner is from the Midwest. I fell into brewing when working as a server in a brewpub, then worked as an intern and assistant brewer at a number of California breweries. I won a scholarship through the Pink Boots Society for a brewing school out of Chicago. While math and chemistry were not by strength in high school, I discovered I like this kind of chemistry.
What's your brewing style?
Very traditional. I'm not trying to reinvent the beer wheel. I want to know what the community wants to drink. My goal is to make accessible, consistent, solid, "good beer."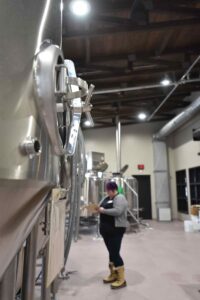 What's your favorite brew on the menu and what's on your wish list?
At the moment, I like the Raspberry Imperial Stout, a seasonal aged with fresh raspberries and cocoa nibs, only available on draft. As for my wish list, more traditional English-style ales and more old-school farmhouse ales. I'm lucky to have creative freedom here and I can't wait for the summer brewing season.
How does Tumbled Rock connect back with the community?
We try to source as much locally as possible. Visitors want to know where their beer comes from. You have guests who plan their trips around beer. We also like to support other local businesses. We have great proximity to Devil's Lake State Park where I've spent a lot of time and Baraboo is just a great city.