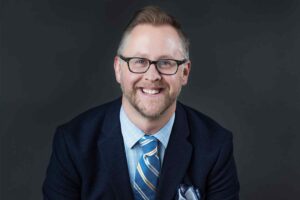 By Darren Hornby, Executive Director
Baraboo Area Chamber of Commerce
Last month we capped 2019 with the Annual Meeting and Dinner. I'm now making my year-end reports to the City of Baraboo and Village of West Baraboo. So we're ready to move on to new initiatives for 2020!
I hope you'll be able to attend the Economic Forecast Summit today. Dr. Steven Deller will share his insights in a talk here at the Visitor Center. You can still register!
That's just the beginning of the exciting new offerings we have planned.
One of my goals for this year is to hold Industry Roundtables, where our members in various business sectors can discuss common challenges and share successful strategies.
I also plan to bring back Wake Up Baraboo events. Our monthly Business After 5 events enjoy a great response, but evening networking sessions don't work for all our members. Bringing back the Wake Up Baraboo breakfast meetings will allow all you "morning people" out there to meet each other and get involved with the Chamber! If you'd like to host Wake Up Baraboo at your business, please reach me by email at director@baraboochamber.com.
In addition to those two projects, I'll be working with my staff and our partners to secure a Joint Effort Marketing grant from the state Department of Tourism. We are working on an application for a grant that would give the Chamber and its partners an additional $39,000 to spend next year on marketing. Those funds would allow us to promote the community – and the Discover Real Baraboo brand – far and wide.
Our efforts began with a workshop last week, led by Spa Serenity owner Lacey Steffes. We've been in touch with the Department of Tourism and will work with its staff to ensure the application is successful.
Due this spring, the application will detail the research that culminated in creation of the Discover Real Baraboo brand, and will outline the marketing efforts the Chamber and its partners have planned for the coming year. Winning the grant would allow us to undertake promotional projects – from advertisements to social media campaigns to a virtual tour guide – that the Chamber couldn't typically afford with its modest marketing budget.
Wish us luck, won't you? I hope to see you soon: If not at today's Economic Forecast Summit, then at the Business After 5 event February 17th at Cell.Plus/U.S. Cellular, or perhaps at a Wake Up Baraboo event.
Now that we've seen the dawn of a new year, we here at the Chamber are ready to rise and shine! WAKE UP, BARABOO!