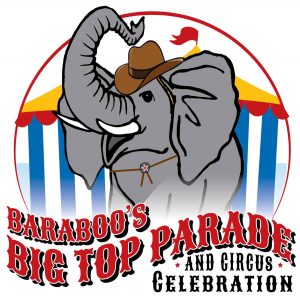 Howdy to all you cowgirls, cowboys, and young'uns of all ages! Mark Saturday, July 18, 2020 on your calendar, as Baraboo commemorates its circus heritage by hosting the 8th Annual Big Top Parade & Circus Celebration. This year's theme is "Go West!"
We encourage all you buckaroos to discover the Big Top Parade, which features nearly 100 circus and community entries. The parade begins at 11 a.m., traveling around the historic downtown courthouse square. Before and after the parade, the Baraboo area and our downtown will be filled with family-friendly events. "This parade and all the events surrounding it get bigger and better every year," said Darren Hornby, executive director of the Baraboo Area Chamber of Commerce. "The entire community will embrace the Western theme, and y'all will have a good ol' time!"
"Baraboo will bring the West to the Midwest, circus-style," said Nanci Caflisch, event co-chair and board member of the Baraboo Area Chamber of Commerce, which organizes the Big Top Parade & Circus Celebration. "Young and old will be enthralled by the circus wagons, marching bands, horses and other animals and of course, the cavalcade of clowns! If y'all miss it, you'll be fit to be tied!"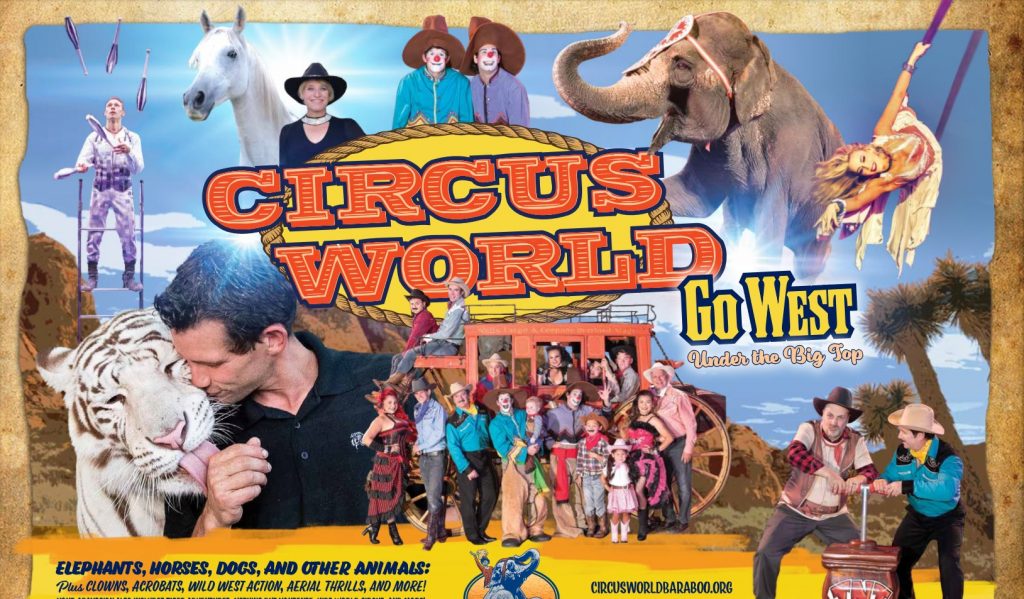 Circus World is a key partner in the parade, lending its unparalleled collection of historic wagons to the event. The performers in this summer's big top show, which also adopts the "Go West" theme, will appear in the parade, as will clubs, community groups and circus performers from across the region.
Scott O'Donnell, executive director of Circus World, noted that the Ringlings and other circus impresarios brought exotic – but family-friendly – entertainment to rural America before the electronic age took hold, when much of the nation was frontier country. "In 1884, five brothers from Baraboo, the Ringlings, put together the most stupendous circus ever known to man," O'Donnell said. "This was a time before the Internet, motion pictures and television, even a time before reliable radio. How did people across America see these magnificent creatures, daredevil feats and performers from around the globe? It was only through the advent of the American circus."
Now, you can't throw a Western-themed party without including some kinfolk. O'Donnell noted that the Ringlings' first cousins, the Gollmars, had a magnificent circus of their own, and their first cousins, the Moellers, created the whimsical, majestic circus wagons that were part of the Ringling circus and circuses all across America. "The Ringling brothers and their extended family really encapsulated the American dream, and through them, changed American history and American culture forever," O'Donnell said.
That culture lives today in the annual Big Top Parade. But that's just the beginning of the fun. After catching the parade, all you cowpokes are invited to stay downtown for a heapin' helpin' of hospitality. Enjoy live entertainment at the Circus Palooza station, which will feature live music and food; or cruise down "Eat Street" and taste delectable treats from food vendors. Then top off your afternoon by heading down to Baraboo's treasured Circus World to catch a big top performance. Finally, if you aren't plumb tuckered out, you can unwind with circus-themed entertainment that evening at the Al. Ringling Theatre, a palatial playhouse built by the eldest Ringling brother. This complete day's package will leave you amazed by everything this rootin,' tootin' little town offers. Yee-haw!
In 2016, the Big Top Parade & Circus Celebration was recognized among the Top 100 Events in North America by the American Bus Association. The event annually attracts upwards of 25,000 visitors.
For more information about Baraboo's Big Top Parade & Circus Celebration, contact the Baraboo Area Chamber of Commerce at 608-356-8333. Look for updates at bigtopparade.com and follow the Big Top Parade on Facebook and Instagram.
Remember, this here's an annual hootenanny: Y'all come back now, ya hear?