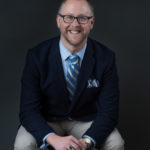 By Darren Hornby, Executive Director
Baraboo Area Chamber of Commerce
Putting on a circus parade when the forecast calls for intense heat and thunderstorms is no sweat at all.
Thanks to the Big Top Parade Committee, which works year-round to put on this signature event; and the staff at Circus World, who somehow find time during their busiest season to give the parade its heart and soul; thousands of circus fans from Baraboo and far beyond got to enjoy another unforgettable parade.
Where else can you see historic wagons, elephants and a camel roll down the street alongside your friends and neighbhors? The parade is a throwback to an earlier time, and a wonderful opportunity for our community to show visitors the Baraboo Area's best face.
Sure, there were last-minute challenges, but in the end it was a great day for a parade. As Circus World's singing ringmaster Dave SaLoutos would say, "May all your days be circus days!"
The parade is the Chamber's biggest event of the year, but there's still much to come.
Next week will bring our annual trip to Warner Park for a Madison Mallards game. Our party bus is filling up, but there are still some tickets available. Join us for a great night on Wednesday the 7th!
Before you know it, the summer tourism season will be drawing to a close, and it will be time for our annual Crab Boil at Devil's Lake State Park. Registration is now open for the September 9 event, which promises a relaxing evening and a delicious meal at the lake. Further details are contained in this issue of the Chamber Review.
I suppose I should mention the annual Cash Raffle, which will return once again this month and will give you a chance to win thousands of dollars. But how about we take one season at a time? With the parade in the books, it's time to take a breath and enjoy some fun – a game at the ballpark, a crab dinner by the lake – with the many Chamber members who drive this organization and its outstanding events.
It's their time, brain power and sweat that keeps the Chamber vibrant. Thanks to them, putting on major events is no sweat at all.