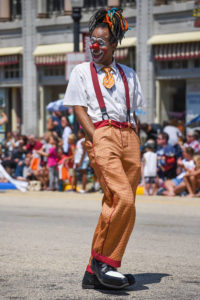 Yenti Eilertson photo
Special Post-Parade Big Top Show at Circus World
After the Big Top Parade on July 20, audiences can see even more antique circus wagons – in fact the world's largest collection of them! – At Circus World, 550 Water St. in Baraboo, and take in the Big Top show at 1:00 and 3:15 p.m. Circus World's 2019 show under the big top features a 1960s "Summer of Luv" theme starring clowns, elephants, juggling and other great acts. Join their singing ringmaster, festive music, and much, much more. For more information, call (608) 356-8341.
SHARE In the FUN
#bigtopparade
Join in the fun and share your Big Top Parade & Circus Celebration photos and memories on Facebook, Twitter, and Instagram using the hashtag #bigtopparade.
Parade to be Televised, Live Streamed
Baraboo's Big Top Parade will be broadcast LIVE in the Baraboo area on TV 43 (Spectrum Cable Channel 10) and 99.7 MAX FM / 740 AM. The parade will also be live-streamed at www.bigtopparade.com, MAX FM's Facebook Page and YouTube Channel. An hour-long, live pre-parade show begins at 10 a.m. Saturday.
Additionally, 99.7 MAX FM will be broadcasting daily from the Al. Ringling Mansion veranda at 623 Broadway in Baraboo, airing 9 a.m. to 10 a.m. Monday, July 16 through Friday, July 20. Interviews are scheduled with circus performers past and present, historians, Big Top Parade planners and more.
Park and Ride to the Parade
Two park –and-ride lots will be open on Saturday, July 20 with handicapped-accessible shuttles to and from Downtown Baraboo. From 8:30 a.m. to 3:30 p.m. Festival Foods parking lot 615 Highway 136 (corner of Highways 136/33) and Circus World's east parking lot, 550 Water St., will serve as park-and-ride lots. There will be signs at both locations. Passengers will be dropped off and picked up one block north of the historic courthouse square at the corner of Oak and Fifth streets.
It's 'Boo-Stock!'
Stick around after the parade and make your way over to the Sauk County Courthouse Lawn to catch our very own "Boo-Stock" featuring Gary & the Gators, their special musical guests, and our Grand Marshal Gene Allen Scott, who will DJ oldies music and lead contests with prizes!
For More Information
For more information about the 7th annual Big Top Parade & Circus Celebration, contact the Baraboo Area Chamber of Commerce at (608) 356-8333 or visit www.bigtopparade.com. For a listing of other circus attractions, activities, events scheduled in the Baraboo area visit www.baraboo.com.
Handicapped Parking
On July 20, handicapped-accessible parking spaces will be located in the parking lots at the corner of Oak and Fifth streets and Ash and Fourth. There will also be handicapped-equipped shuttles at the Festival Foods and Circus World park and ride locations.
It's a Circus Palooza!
There's more to the festivities than the parade – Circus Palooza will serve up delights from 9 a.m. to 3 p.m. on the downtown square. The event will feature live music, grilled cheese sandwiches, kids' activities, wine and beer. A "Boo-Stock" music festival will keep the party going after the parade, featuring Gary & the Gators and Grand Marshal and beloved DJ Gene Allen Scott on the courthouse lawn.
Tobacco-Free Area
The grounds of Downtown Baraboo historic courthouse will be tobacco free for the Big Top Parade & Circus Celebration on July 20.