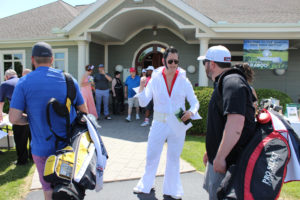 By Darren Hornby
Executive Director
It isn't just because I came costumed as Elvis that I say, to those who supported – and participated in – our June 11 golf outing, "Thank ya … thankyaverymuch."
The Celebrity Golf Classic got a great boost from sponsors, raffle ticket buyers and silent auction bidders. And let's not forget the players, who filled the course and – in many cases – arrived dressed as their favorite celebrities. It isn't every golf outing that features Rocky Rococo teeing off in a white suit and wide-brimmed hat. Thanks to all!
The Chamber didn't have long to bask in the afterglow of the golf outing, as the very next week we officially rolled out the Discover Real Baraboo brand. Funded by five partners – the village of West Baraboo, city of Baraboo, Downtown Baraboo Inc., the Business Improvement District and the Chamber – the brand was developed by The House United of Milwaukee. The brand consists of logos, typefaces and color schemes designed to help the Baraboo Area promote itself in a uniform, integrated way. Denise Kohnke of House United attended our June 20 rollout event at Con Amici Wine Bar to show stakeholders how the brand should be used. It should appear not only on the Chamber's website and posters, but on members' marketing materials, as well. It could be placed on T-shirts, baseball caps, smartphone cases and, in the long term, on signs welcoming visitors to the Baraboo Area.
We distributed flash drives containing all the files stakeholders need to use the brand, and we added Barry the "Discover Real Baraboo" Bear to our team: He will happily visit members who use the brand in their own marketing materials, and will pose for photos to be posted via the Chamber's social media channels!
As June turned to July, our focus shifted to the seventh annual Big Top Parade and Circus Celebration, set for Saturday, July 20 in downtown Baraboo. The organizing committee is busily lining up parade entries and vendors. This year's event will feature not only an outstanding parade led by Grand Marshal Gene Allen Scott, but a "Boo-Stock" music festival, beer and wine vendors and grilled cheese sandwiches!
Now that warm weather has finally arrived, we're looking forward to a great summer!