Dear Chamber Members:
I am delighted to inform you that the Baraboo Area Chamber of Commerce has hired for the position of Tourism and Marketing Coordinator. After a dedicated search and interview process we are pleased to have Ben Bromley joining the Chamber team.
Ben hardly needs an introduction to most of you, as we have all been reading his work for years. For those of you that may not know Ben comes to the Chamber from Baraboo News Republic, where he has been employed for the past 22 years. During that time he has been promoting the Baraboo area through his stories and pictures. Ben attended the University of Minnesota, where he graduated with honors in journalism. He has continued his education, taking courses at Madison College in website development.
Ben is truly committed to making the Baraboo area the best. He has been Greater Sauk County Community Foundation's longtime public relations chair, served in Kiwanis and as the organization's president, and is actively involved CAB Theatre.
Ben brings a rare collection of talents to the position. He excels at writing, photography, promotion, social media and marketing. Ben has many of the strengths that we are looking for to help continue moving the Baraboo Area Chamber of Commerce and our branding initiative forward. I could not be happier to welcome Ben Bromley to the Chamber.
Sincerely,
Darren Hornby
Executive Director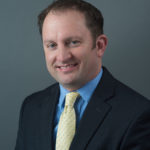 Bromley